All Volunteer, All Heart from Binky Patrol
Tiny Transplant Titans
Episodes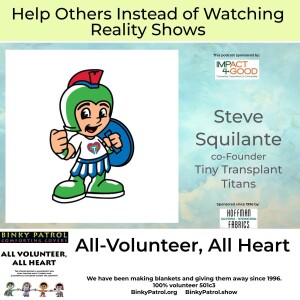 Tuesday Jul 11, 2023
Tuesday Jul 11, 2023
Susan's guest, Steve Squillante, co-founder of Tiny Transplant Titans, opens up about the nights he and his wife spent at the hospital with their son, who is awaiting a liver transplant. The encounters with other families and transplant patients illuminated the challenges faced by those who lived far from medical centers or lacked the support of a partner. Steve realized the privilege they had of living just a short distance away and being able to care for their son together. Witnessing the struggles of other caregivers who couldn't easily leave the hospital, they saw the significance of the little things they often forgot, like coffee gift cards, cozy blankets, or brand-name toothbrushes.
Their experiences sparked an idea: to create care packages containing these forgotten items, relieving financial stress for families unable to leave the hospital. They aimed to offer a sense of ownership and familiarity, providing comfort during their stay. Susan emphasized the importance of feeling at home and having personal belongings in the hospital. 
Amidst their son's health challenges and nonprofit work, Steve and his wife balance jobs while working from home. Their desire to positively impact motivated them to utilize their support system to help others. The journey of Tiny Transplant Titans is just beginning, but the positive feedback and smiles from families receiving their care packages inspire them to continue.
The emotional tone of this summary reflects the resilience, compassion, and determination of Steve Squillante and his wife. It underscores the significance of small acts of kindness and their impact on families navigating the difficulties of pediatric transplants. The listener is moved to support Tiny Transplant Titans and witness the transformative power of their work.
 
Impact4Good sponsors this podcast.
Impact for Good is the one source for bringing community service to your next event. Excited and engaging team-building activities are just part of what they offer. Let them identify the best cause or beneficiaries to support, manage the donation logistics, and bring the spirit of community service to your group from your initial request through the day of your event. Impact4good handles all the details. Be sure to visit them at Impact4Good.com.